Reel system
Best way to save energy, water and chemicals reducing operating costs.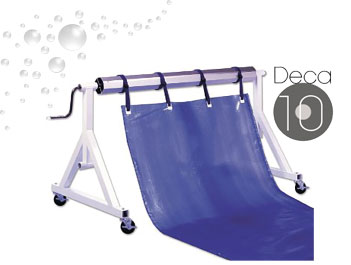 Double Mobile Manual or Motorized Reel System
For swimming pool up to 16 x 25 m. Equipped with 2 axes allowing the coiling of 2 covers of 8 m x 25 m. Two anodized aluminium masts of diameter of 130mm. Control of the course of the cover thanks to the strap brake.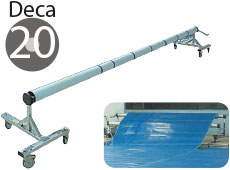 See more
Premium Mobile Manual Reel System with Wood Top
Ideal for large swimming pools with lots of activity. The system features a marine quality stainless steel frame with a wooden top. It can be positioned using its stainless steel rollers or fixed on the edge of the pool. A strong, resilient and attractive framing for your cover. Available in sizes up to 10.4 m long. Aluminum mast of 127mm diameter.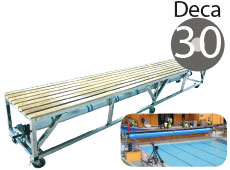 See more
Covers & Reels Systems
5 ° C loss of heat in 5 hours without cover, 0.65 ° C loss of heat in 5 hours with PREMIUM cover.
Bubble or Foam Covers
All heat retention covers are welded longitudinally and can be lined, in option, on all edges. Foam cover available in thickness of 5 or 7 mm. Allows to hold up to 95% of the evaporation of a swimming pool. High chlorine resistance. Anti-bacterial treatment.
See more



Hexagone Manufacture is the European leader in the cleaning of the commercial and public swimming pools.

More information

Expert in swimming pool solutions.Hexagone Manufacture