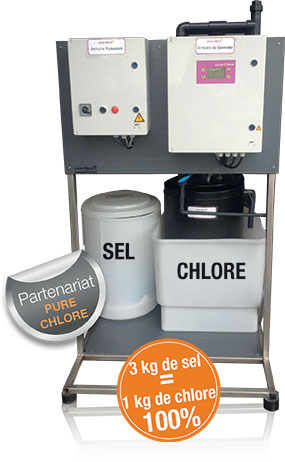 Complete autonomy
OFF-LINE chlorine production is now possible. The Pure Chlore system offers an alternative to the use of online electrolyser .
There are 3 reason behind the development of Pure Chlore:
1. Changing of the quality of chlorine in time.
2. Risks associated with its handling, storage and transport.
3. Operational costs linked to the use of commercial chlorine.
Safety for the storage of chemicals in the swimming pools refers to many aspects, technical prevention, compliance with safety instructions, training of personnel. During his work, the technical staff of a swimming pool expose themselves to chemical and physical dangers. These dangers can be limited with the Pure Chlore system. There is no need to store gas chlorine tanks, pebble, powder or liquid chlorine in stock. Beyond the prevention of risks, it is also the assurance of autonomy and the certainty of a beautiful and healthy disinfected water.
See more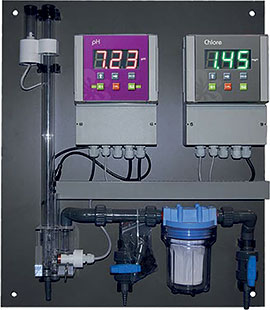 Amperometric chlorine/pH regulator
Hexa Control Chlorine/PH is intended for demanding users. This regulation has a amperometric measurement of chlorine with 2 injection thresholds and 2 injection thresholds for PH. Display of 6 cm in height and 2 different colors. Ideal in the dark technical premises.

See more



Hexagone Manufacture is the European leader in the cleaning of the commercial and public swimming pools.

More information

Expert in swimming pool solutions.Hexagone Manufacture